Securing the World Health Organisation's Caregiver Skills Training for Digital and Offline Access
Digital learning that supports caregivers of children with developmental disabilities amidst the COVID-19 crisis.
Problem
The World Health Organisation (WHO) and Autism Speaks developed an evidence-based training programme for parents and caregivers of children with developmental disabilities: WHO Caregiver Skills Training (CST). The programme achieved significant success in Canada, which increased demand for its implementation in Nepal and Africa. Due to the COVID-19 crisis, WHO could no longer conduct their face-to-face programme, let alone scale it to remote regions of the world.
Our role was to provide a Learning Management System (LMS) that could translate The WHO Caregiver Skill Training programme onto a digital platform, whilst being fully functional offline in regions like Nepal and Africa when internet connections are unreliable.
Solution
SystemSeed's Learning Management System (LMS) for WHO EQUIP Remote—an early intervention mental health programme, offered profound evidence in scaling face-to-face resources digitally. Using that experience, we worked with our passionate team to digitalise the Caregiver Skills Training programme, to:
Create a user-friendly LMS that's available offline in regions with poor internet connectivity and accessible across multiple devices. 

Develop content that's culturally inclusive whilst being easy to follow for caregivers at different learning levels. 

Provide content that can translate into different languages and avoid major linguistic errors.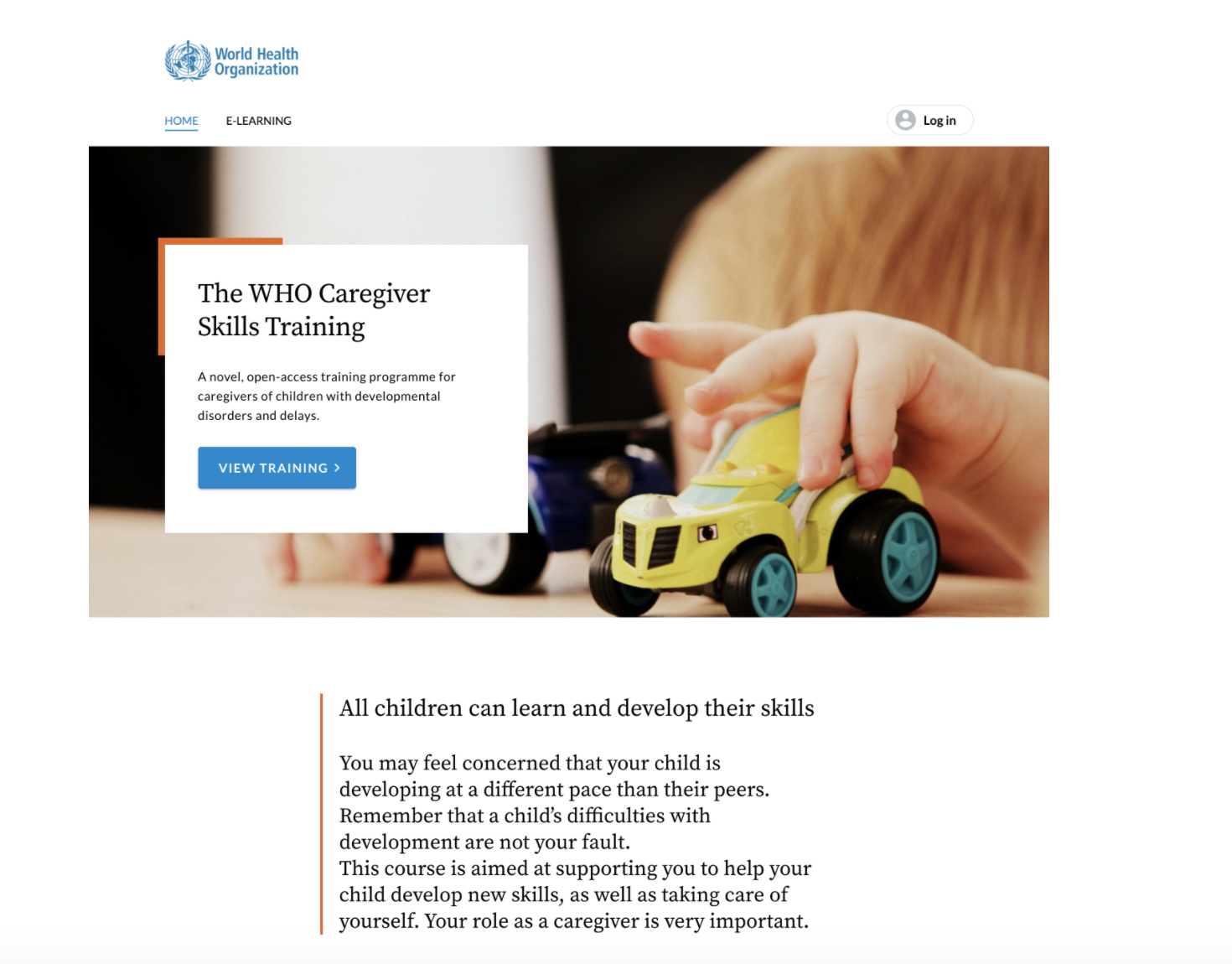 Within a few weeks, WHO Caregiver Skills Training was created as a 3-part online course, accessible through a user-friendly Progressive Web Application (PWA) that's fully usable offline. 
Now, caregivers in remote regions have access to critical resources for childhood developmental disabilities without depending on a constant internet connection.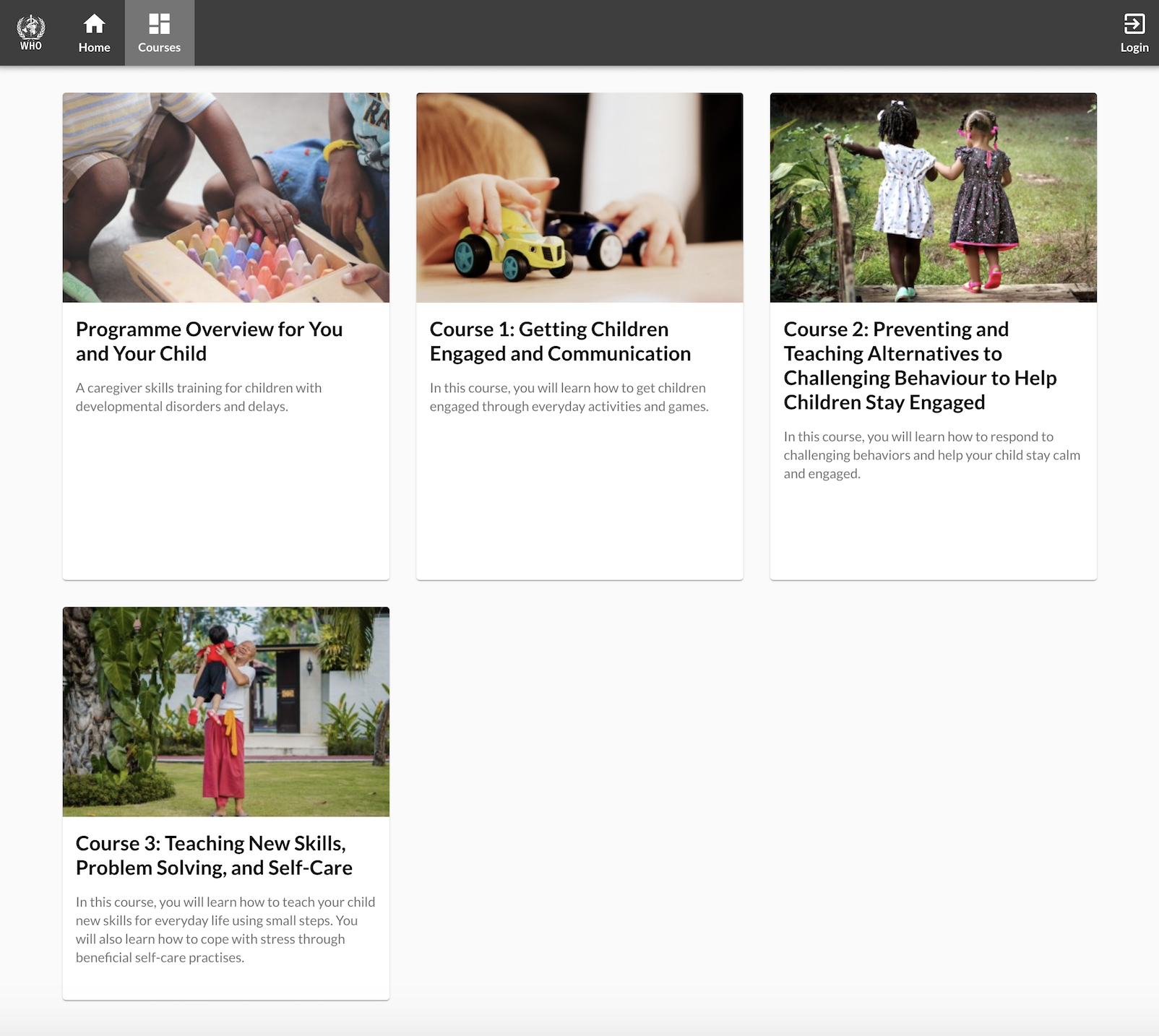 How we did it
ANU LMS Simplicity and Usability 
We built the WHO Caregiver Skills Training on ANU, our open source learning management system, combined with custom Drupal and React development. 
ANU LMS is highly versatile and reusable due to its open source nature and being fully responsive across devices: computer, mobile, tablet. Its features include offline support, easy manageability, and a highly intuitive interface. ANU LMS also allows content managers to set varied permissions in the system so that different types of end-users can access the content that is intended for them. 
By visiting WHO Caregiver Skills Training, users can download each course onto their desired device, making it accessible without an internet connection. The offline-first web application then automatically syncs the downloaded content to the latest version whenever an internet connection is available, and doesn't need to be re-installed to receive program updates—thus offering greater convenience to its users.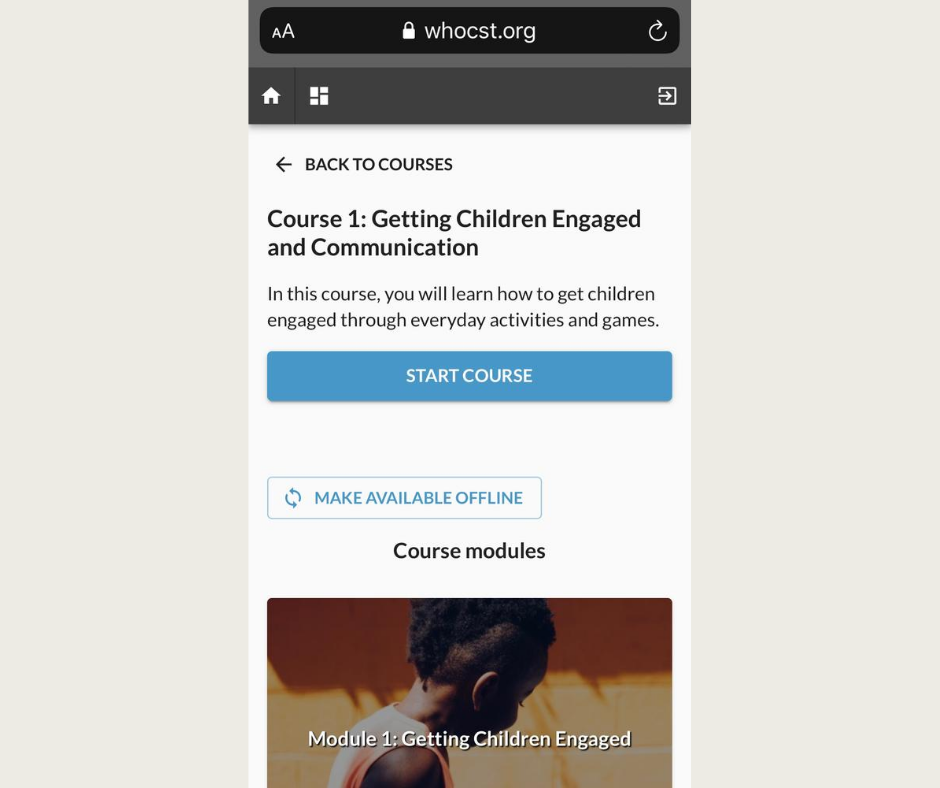 eLearning Content Specialism
To ensure content translation would be easily understandable by a diverse group of global users, we brought in an eLearning content specialist with an interdisciplinary background in mental health. 
The digital training is divided into three courses containing 10 modules in total. Each module is constructed to provide impactful lessons that address communication, challenging behaviour, and other essential needs. Every lesson features engaging multimedia content such as live quizzes and reflective journaling prompts built into the LMS. 
The language is composed in a direct and relatable manner without relying on clinical jargon — that way, it's understandable for users with a range of literacy skills. The material was also assessed for cultural-inclusivity and features photographs and illustrations depicting diverse caregivers from India, Africa, Asia, and other regions.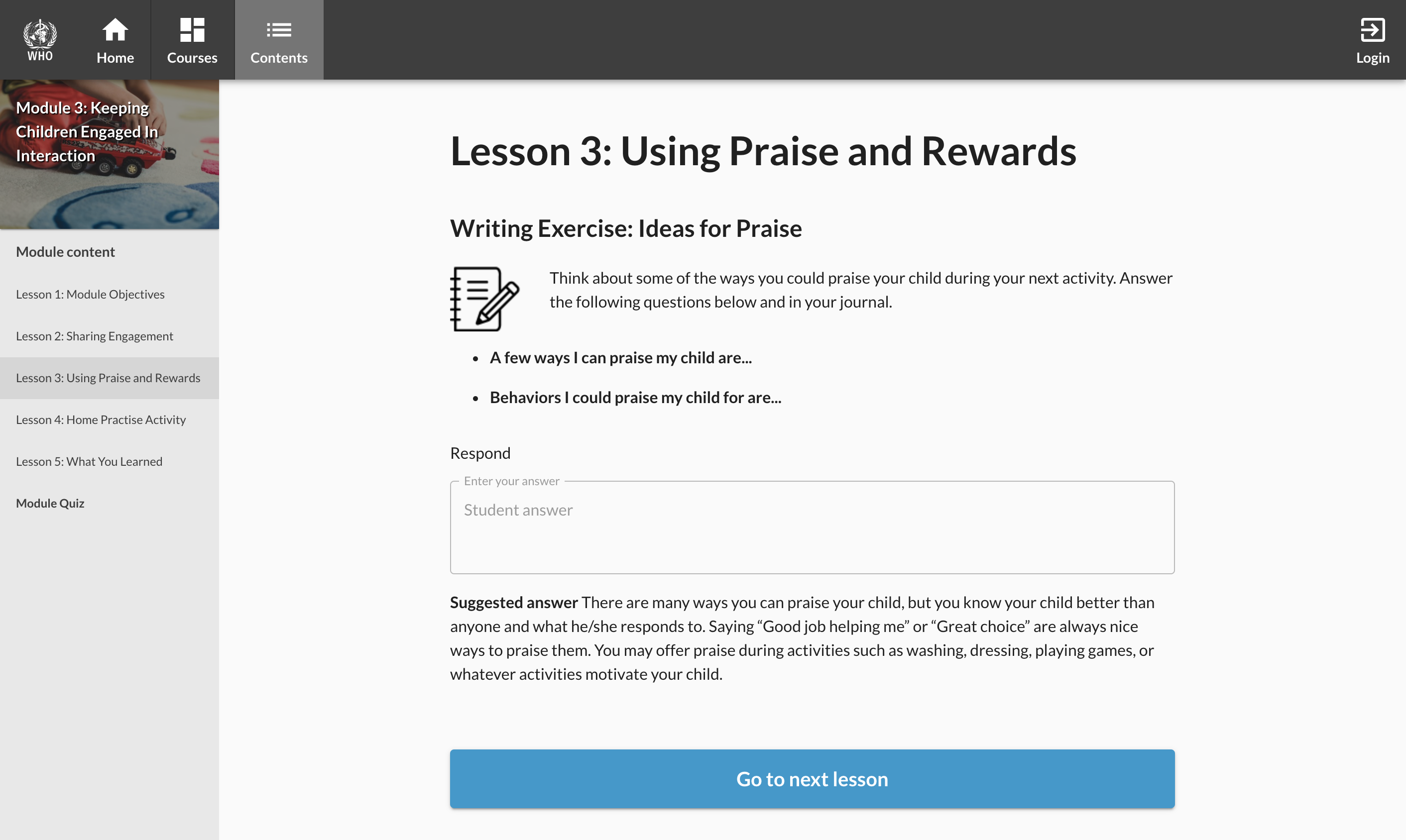 UI Design and Accessibility 
We designed the home page, landing pages, and contact page around WHO's brand guidelines whilst creating its own character and identity. To secure a consistent and professional look to the content, we experimented with typography that looked great across all devices. 
Accessibility was also prioritised, resulting in a simple design that would translate different languages and their density, without overloading the pages with unnecessary elements. Creating the proper color contrast between font and background was another crucial feature for increasing accessibility.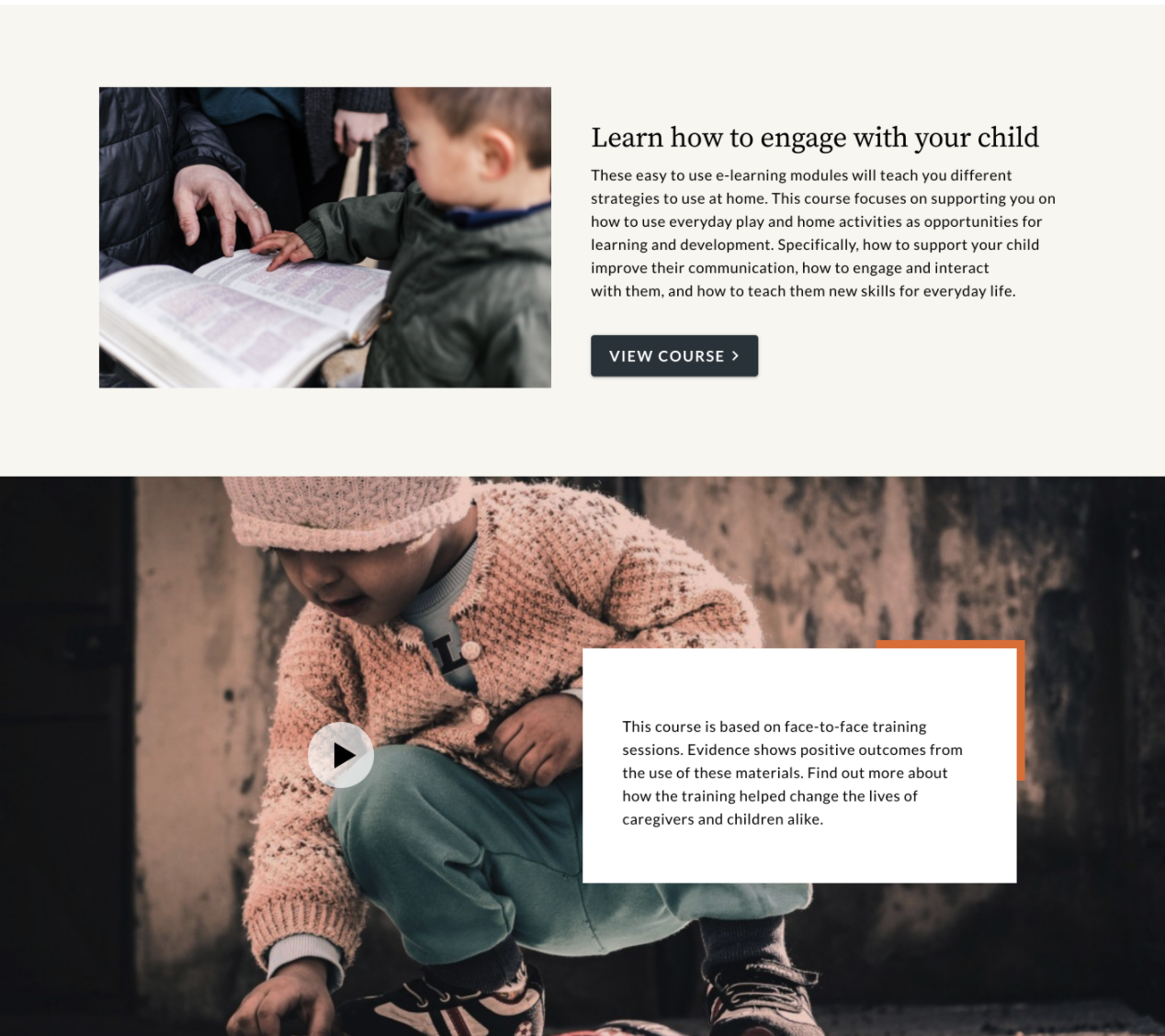 Steadfast Collaboration With Stakeholders
Our team was in constant collaboration with WHO's Department of Child and Adolescent Health and Development whilst receiving feedback from expert stakeholders at Autism Speaks. Before implementing content directly into the LMS, a draft of each module was created for  stakeholder feedback. The drafts allowed us to consolidate and visualise how the information would be translated digitally — thus securing greater accessibility for caregivers with different learning skills around the world.