Charity & Non-Profit Website Design & Development
At the service of non-profit technology needs





As a social impact-driven agency, furthering the cause of charities and non-profits is what drives us. We understand how activities like fundraising, running campaigns and executing actionable programs are core to every third-sector organization.
Our CMS-based solutions allow charities and non-profits to manage everything in-house, from user administration to website interface details. For all technical endeavors, web design and bespoke development, SystemSeed accompanies you every step of the way.
Non-profit & charity web development

Fundraising tools

Content management systems (CMS)

Technical consulting

Visual design

User experience design (UX)

Bespoke development

Tier-less tech support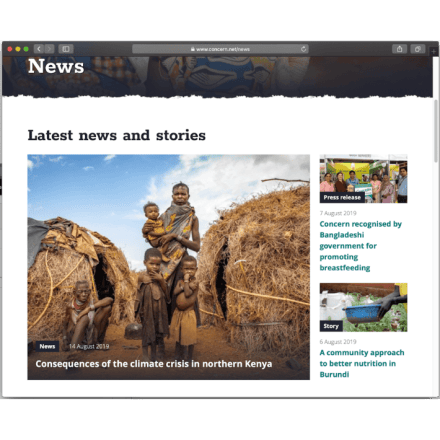 Falcon charity distribution
A tailor-made CMS for charities with all the trimmings
We built Falcon, to bring all the common features our charity clients need in one place. It's a Drupal distribution specifically for charities, complete with a gift shop, donation flow and a fully-featured website content management system.
Falcon's core functionality lies in facilitating and managing fundraising activities. It allows organizations to further their cause via campaigns such as Concern Worldwide's COVID-19 appeal. Falcon won us the prize for Website of the Year at the 2019 Splash Awards.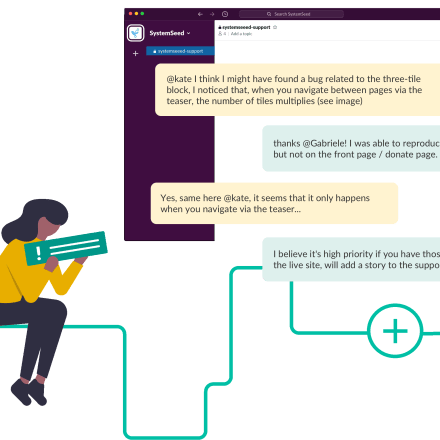 Industry-leading support
Securing sensitive data, maintenance & compliance
All too often, an agency's contract will fall short in aftercare post delivery. At SystemSeed, we pride ourselves in offering not only a comprehensive development service for all our client's needs, but also an extensive, long-term support package as standard.
We understand that monitoring, tweaking and responding to changes after a successful launch is at least as important as building a cutting-edge digital platform. Additionally, we employ industry-leading security for all the data that passes through our hosted systems. We are fully GDPR-compliant and offer all of our clients the choice between having their servers located in the EU or the USA.
Want to bring your charity or non-profit to the next level?
Get in touch with Anthony.


Increasing donations with a modern gift shop
Like many charities, Concern Worldwide was struggling to keep up with modern web trends and functionalities. As part of our work in upgrading their online presence, we wanted to specifically help increase their revenue via digital channels.
Leveraging all the advantages of a modern web UI tools, we built a slick and cutting-edge webshop that made browsing and purchasing the charity's products and services an absolute breeze. This, along with the vastly improved other parts of the website, contributed to significant revenue growth.
By designing and implementing an attractive, easy-to-administer gift shop together with Concern Worldwide, we helped reach an unprecedented number of new donors.
Tech Lead at SystemSeed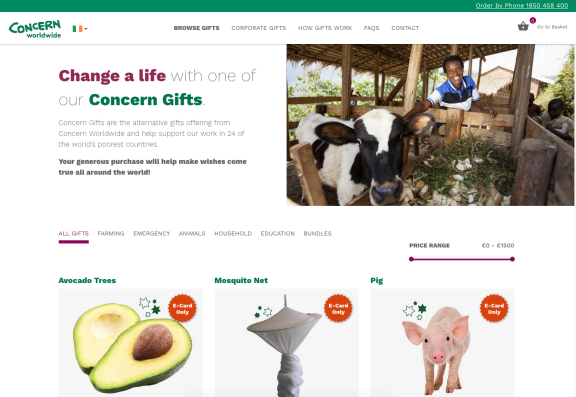 We work with multiple countries and languages. Can you help with that?
Yes! We provide out-of-the-box facilities for any localization options you need, whether purely linguistic or structural. We also support left-to-right languages like Arabic and non-Roman alphabets like Cyrillic.
We have a family of sites. Can we connect them all to save time and money?
Consolidation is our middle name. It's an overlooked part of web development, but when we see the possibility to gather common functionality and services across separate sites, we will always strongly advise you about optimizing for efficiency.
Can we manage our own content as our projects and campaigns change frequently?
We provide you with all the tools to manage all aspects of your web content. Any CMS distribution we provide will enable you to add and amend any type of content you may need at any time for any team size.
How easy is it to set up multiple payment options for donors?
Currently, we support PayPal, GlobalPayments, Stripe and Apple Pay. These providers offer payments with most major global credit and debit cards. We can also add and support any further payment processors you need.
Is there an easy upgrade option so we don't have to rebuild our site every three years?
All of our clients enjoy an easy and free upgrade path with Drupal, especially if Falcon is used as the base CMS. We focus on building long-lasting and highly extensible platforms, so that maintenance is minimal and any needed updates and patches can be deployed quickly and easily.
Got a different question?
Latest Charity & NGO news & articles