Drupal Development Services
Why our agency loves the world's leading open-source content management system
The Drupal platform and its website development ecosystem is trusted by organizations such as the UN, the EU, national governments, academic institutions and Fortune 500 companies. We are proud to work with multiple clients like these to create great Drupal-based digital experiences.
SystemSeed has been building enterprise-tier sites with Drupal for over 10 years and we have 5,000+ Drupal open source commits under our belt. Our team are leaders in the Drupal community, regularly speaking at, hosting and sponsoring events in many countries.
Delivering excellence in Drupal development services and hosting is what our company is all about.
Powerful content management system (CMS)
PHP-based framework
Free and open source software (FOSS)
Well established & proven web technology
Trusted by the UN & governments
Vendor agnostic
Specialized Drupal 9 agency & consultants
Custom Drupal design & development
Why Drupal development?
Benefits of using Drupal 9
Faster builds
Thousands of developers around the world have contributed to Drupal distributions, modules, security patches and documentation. All of these are available for free, meaning that we don't need to code everything for you from scratch. Drupal 8 Core is itself a packaged platform, coming with 200+ features out of the box.
Highly secure platform
There is a reason why Drupal is a standard for enterprise clients. Drupal is a mature, stable platform that has been designed with security as a priority. The Drupal Security Council oversees all issues of security, and the global community of Drupal developers are constantly fixing security issues as they are discovered.
Scalable & extensible tech
Drupal can support sites with constantly high levels of traffic, or just surges at any given time - in fact it's used by some of the 100 busiest sites in the world. Drupal is also hugely extensible, with hundreds of APIs and integrations that already exist. Its architecture is such that developers should never end up hitting a wall that cannot be overcome.
Drupal expert consultants
We're not only specialists in Drupal and its applications across multiple industries, but digital strategists too. That means we don't just build well, we build right. We combine our technical excellence with strategic business and user-focused acumen to create award-winning sites.
Easy content management
A powerful content management system with an intuitive user interface. Authoring permissions and editorial workflows. Changes and revisions easily tracked. You can even create content in Drupal from a mobile device.
Mobile first
Fully responsive, so mobile sites are created quickly and look great. User experience is seamless, whatever sort of device they're on. Want a web application? Drupal can do that too.
API first
APIs (application programme interfaces) connect marketing technologies and other business applications together. Drupal is designed to connect your content to other sites, and your tools together.
Flexible architecture
Multimedia (text, images, video, PDFs, etc.), customizable menus, context-specific content displays, and content architecture that's editable from the admin interface. Drupal makes it simple.
Multi-site
A single platform to manage multiple sites across your organization, brands or locations. Drupal lets you create quickly and deploy easily.
Multi-lingual
Localisation works smoothly with Drupal. Installable in 94 languages. Translation workflows. Multiple admin languages. RTL (right to left) language content and admin interfaces.
Got a Drupal project or idea?
Get in touch with Anthony.


Concern Worldwide gains international reach with Drupal
Concern is a globally-active charity with a suite of sites that drive engagement, donations and gift purchases. We've been helping them deliver those activities using Drupal web development for the last 10 years. 
Managing millions of Euros in donations, contend with spikes of 500,000+ users at a time, and integrating with their other administrative systems, like Microsoft Dynamics CRM, is a big ask, but Drupal makes it easy.
Over our agency's 10 year relationship with Concern, they've benefited from the previous coding and development of the open-source community in reducing their costs, and are repaying that by allowing us to release much of the work we've done for them as Falcon, our CMS specifically for charities.
Concern Worldwide need their suite of sites to be super robust, highly secure, handle a lot of traffic, and also be easy for site admins to build pages and edit content. Drupal is the only framework that does all these things whilst being quick for us to build as well.
SystemSeed Tech Lead & PM for Concern Worldwide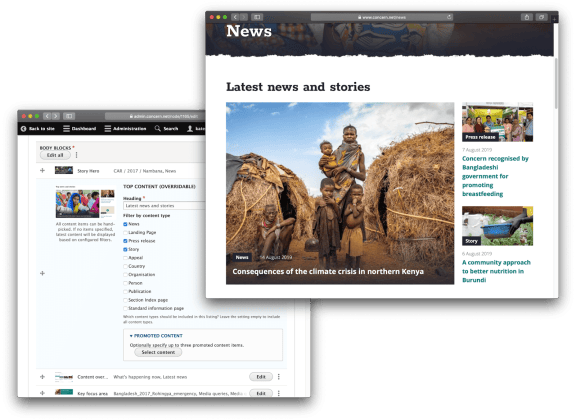 Drupal editor experience demo
Latest Drupal news & articles