Open Source Web Development
Free and open source software is at the core of what we do
Free and open source software (FOSS) is what makes modern software development possible. It's beneficial to our clients, and enables us to do more for them. Almost all of our projects use open source technology and we only use specific vendors or licenses when our clients requires them.

Giving back to the communities that power our daily work really matters. That's why we have around 5,000 public commits on over 40 projects across the Drupal ecosystem and other FOSS platforms. We do all our web development using free & open source software, platforms and services.
Open source web development
Advanced monitoring and management
Better security via community peer-review
CMS (Content Management System) creation & management
Open source software, design & infrastructure
Direct developer access
Regular contributions to leading projects
Client-owned code
Why use open source technologies?
Benefits of open source web development
1,000s of hours of ready-made code for free
Drawing from an extensive pool of open source projects and communities allows our endeavours to benefit from countless hours of specialist knowledge and verified work. It is an invaluable resource to us and our clients.
No software licensing fees
There are no fixed cost associated with any of the open source technologies we use. Forget needing to pay for software licenses, subscriptions, boxed software or proprietary servicing fees!
Clients own their code
Every line of code we write is hosted on GitHub, where it can be audited at any time. You choose whether or not to set the code repository as publicly or privately viewable, and which parts, if any, to open-source.
Senior developers from around the world
We're a bunch of diverse people with varied interests. Moreover, our developers each have at least a decade of industry experience and open source web development under our belts. Much of that work endures in widely-used open source projects.
Dozens of enterprise websites launched
For 10 years, we have successfully built, launched and maintained complex and trusted platforms for major NGOs and charities. Part of that success comes from leveraging and giving back to the open source community.
Technical excellence and code quality
At SystemSeed, we use several layers of automated testing and deployment solutions on all of our projects. We build software using the best open source tools and frameworks in an Agile methodology with a transparent peer-review system, so bugs are rare in a production environment.
Tried and tested modules and solutions
Our web dev team has written code for over 40 Drupal modules and other open source projects, all freely available on GitHub. Our contributions are peer reviewed by tens of thousands of community members and are routinely used in hundreds of web applications.
We act as a partner not a vendor
We help you discover your business and technology requirements and accompany you on your journey to market. There is no vendor-tie or lock-in, nor will we ever attempt to sell you anything that will force you down restrictive technology paths.
We've won awards for our open source work
We don't just contribute to projects, we also get recognized for outstanding achievements even as we will always be standing on the shoulders of giants. Check out our Awards section for more.
Publicly-sourced maintenance & audits
An open source web project allows for immediate world-wide scrutiny. Finding bugs, adding featured and patching vulnerabilities is a shared and distributed effort that everyone benefits from.
Interested in harnessing the power of open source development?
Get in touch with Anthony.


Falcon: Our award-winning open source content management system for charities
One of the advantages of working with non-for-profits is that we get to help solve real problems for real needs. Web technology is part of any functional modern organisation, and delivering value for clients facing similar issues is all the more rewarding.
To that end, we built Falcon, a Drupal distribution specifically for charities, complete with a gift shop, donation flow and a fully-featured website content management system tailored to their needs. In 2019 Concern Worldwide's website, which is powered by Falcon, won Website of the Year at the open source community's International Splash awards.
Sometimes working on recurring tech problems has its benefits as we could gather all of the solutions to charities' problems in one place. The result became Falcon, a ready-to-go CMS framework - completely free and open source for anyone to use.
CTO at SystemSeed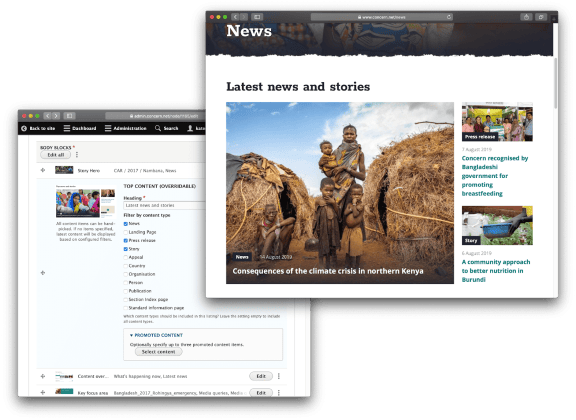 What if I don't want to my project to be open source?
No problem! Working with open source technologies is beneficial for code quality and development expediency, but that doesn't mean your project needs to be open-sourced. You are in full control over your project's source code as well as its licensing and usage.
Isn't open source software more prone to security or privacy failures?
Not at all, in fact, quite the contrary. Open source software tends to become more secure in the long run, since it can always be verified independently by anyone and trust in it will increase with the number of projects it's part of. That's impossible to do with traditional closed-source applications.
I want to use a particular license/platform/closed source application in my project. How will that work?
Most proprietary software will have an application programming interface (API) to allow communication with other parts of your project. Depending on the strength and flexibility of this API, it can function perfectly well as a "black-box" in any type of open source-based project.
What open source tools do you work with?
We work with multiple open source toolkits, primarily Drupal, React, Node, Atom, Bootstrap, Material, SemanticUI, Meteor, UNIX, Git, MySQL, Codeception, and Kubernetes. If you have a different technology in mind, let us know. We may have used it before.
Got a different question?
Latest open source news & articles