Software development excellence tailored to your needs
We put our clients in the driver's seat and build the perfect solution around them
Fulfilling complex projects is what we do every day. Whether you're a small startup or large organisation, you can trust us with your objectives and budget. Our 10-year track record of high-quality and ambitious development means that we have the experience to help guide and execute your vision.
At SystemSeed, software development isn't just about programming; it's about understanding what to code and how. We believe in delivering technically excellent software according to best practices, and clean coding standards - as well as not coding ourselves into a corner. That's why all of our developers are educated in team collaboration and client communication.
We build a lot of reusable code as part of our contribution to the open source community. This allows us to leverage existing, stable, and widely supported solutions in our client work for a more affordable and quicker time to market without compromising on quality.
Agile web software development
Agile mobile app development
Drupal development
Digital experience platforms
CMS (Content Management System) creation
Open source software
Mobile app development
Full-stack development and maintenance
AWS and Kubernetes infrastructure
Why develop your web software project with SystemSeed?
Web platforms, mobile apps, open source software and an Agile methodology
Excellent return on investment
Our Hypothesis-Driven approach and brilliant team of developers quickly create usable results that maximize profit and ensure incredible value that lasts for as long as you need it to.
Cost competitive
Whether it's higher quality development at a lower cost or scalable hosting at a fixed annual price, we leverage more for less to provide a sustainable service that fits your needs.
Complex and multifaceted sites
As experts in open source technologies, such as Drupal and React, our all-senior development team is capable of building complex sites that remain user-friendly, reliable, and deeply impactful.
Start small
Dip your toe in the water with a security, code or UX audit. Our Agile approach to all stages of software development let you to get a feel for how well we'll work together before you dive in.
Highly-skilled developers
Unlike other agencies, we purposely employ only senior-level developers to achieve high-quality code, so you get reliable software and fewer disruptions. With our tier-less, on-demand support, the experts who build your sites also maintain them.
Agile project management
Our commitment to an Agile approach offers a very organized working process. By breaking down your project into short, manageable sprints, we guarantee fast and reusable results.
Multifaceted industry experience
We work with an array of charities and corporate clients. By using our knowledge of one industry to benefit the other, we can help you achieve the best results in yours.
Hypothesis-Driven Development
We utilize the best practices in Hypothesis-Driven Design (HDD) to create a roadmap to success based on evidence. By experimenting and testing, gaining raw data, following our data, and achieving the best result.
Drupal experts
Drupal's robust content management framework is highly renowned. We've been building enterprise-tier sites with Drupal for over 10 years, and our team is a global leader in the Drupal community.
Open-source technologies
We thrive on open source technologies and use them to create online fundraising, learning, and content management system (CMS) platforms for our clients. The open exchange of code allows projects to be more cost-effective, flexible, and secure.
Need an Agile software development team?
Get in touch with Anthony.



Multi-channel offline web applications for the World Health Organisation
For WHO EQUIP, we developed an offline Progressive Web Application (PWA) for psychological and psychosocial support interventions. The project was designed to work in remote regions of low and middle-income countries with limited access to an internet connection. The app is available on multiple devices, including desktop, tablet, and mobile. It doesn't need to be re-installed to receive program updates, which offers greater accessibility to its users.
Our skilled developers used our ANU LMS distribution, and combined it with custom Agile Drupal and React web software development, which helped secure this project's future as a powerful offline tool.
Our dev team had the opportunity to develop cutting-edge solutions to difficult technical issues WHO EQUIP was facing in remote areas. We created an offline-first web application that works across devices and automatically syncs whenever the internet is available.
Full Stack Developer, SystemSeed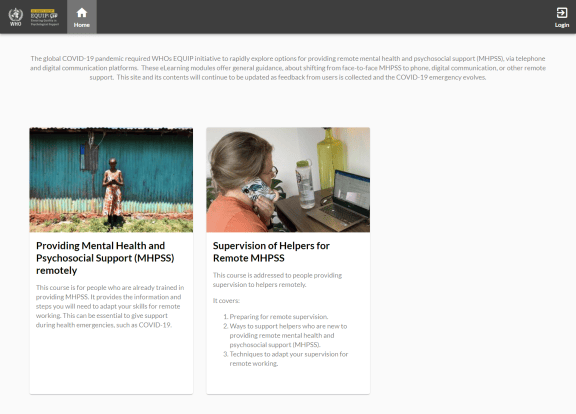 Latest software development news & articles