News
Sponsoring AND speaking at DrupalCon - not once, but twice!
SystemSeed is going to DrupalCon Prague. We're proud to share that we'll be giving two presentations as well as sponsoring the event.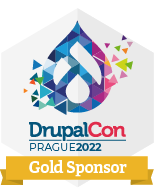 DrupalCon Prague 2022: an open source, community-driven event that gathers more than 1,500 of the top digital minds using Drupal for collaboration, knowledge sharing, friendship, and moving the project forward.
We're taking the whole SystemSeed team to Prague to take part in the conference, do some teambuilding, and contribute to Drupal.
SystemSeed is proud to say that we are Gold sponsors of DrupalCon and are also going to be giving two presentations during the event.
Supporting the Drupal community is important to us, and sponsoring DrupalCon Prague is a great way to help the community as a whole.
SystemSeed, CTO
How to make 4-day weeks a practical reality in a small agency. Lessons from a year-long experiment.
When: Tuesday, 20 September, 2022 - 16:15 to 17:00
Track: Agency & Business
Presenters: Anthony & Ev
Description:
SystemSeed successfully operates Mondays - Thursdays only, and has been doing so for over a year.
At the start of 2021 SystemSeed (a small, specialist, fully-distributed agency) saw that some of our most talented engineers were in danger of burning out - a common industry problem.
We were already using the concept of 'Google Time' by only requiring SystemSeeders to work on client projects from Monday to Thursday, and leaving Fridays for other things like individual education, article writing, or open-source contributions. However, our people were either spending this time on administration or finishing off client stories (rather than tasks that would benefit them personally) or were not visible at all, with no oversight on how they were spending this time.
We'd seen that the COVID pandemic and consequent restrictions were putting additional stress on everyone. So, in consultation with our on-call mental-health specialist, our CEO and CTO decided to move to 4-day working weeks for our team as an experiment and have maintained this for over a year. At the same time, we have doubled our revenue and increased our team size.
A case study of WHO EQUIP - A multilingual platform for scaling quality mental health support in low-income settings, currently used in 20+ countries.
When: Tuesday, 20 September, 2022 - 17:15 to 18:00
Track: Clients & Industry Experiences
Presenters: Elise & Anthony
Description:
EQUIP (Ensuring Quality in Psychological Support) is a newly launched project from the World Health Organization & UNICEF that uses Drupal to deliver mental health support training and assessment for low and middle-income settings with low connectivity.
EQUIP is currently in use in over 20 different countries and 4 languages, through 20+ implementation partners including War Child Holland, Uganda Ministry of Health, Socios en Salud (Peru), and Transcultural Psychosocial Organization Nepal.
Working together with George Washington University, WHO, and UNICEF, we designed and developed a successful digital platform for training & assessing mental health support workers, based on their original, more arduous, paper-based methodology. We managed this during a global pandemic and adapted solutions for remote trainings and supervision in the field.
Are you coming to DrupalCon Prague?
We'd love to see you there, so if you're going to be attending, drop us a line so we can meet up!