Articles
Translating the WHO Caregiver Skills Training for Online Delivery
Supporting Caregivers for Children With Developmental Disabilities With the World Health Organisation.
The World Health Organisation partnered with Autism Speaks to develop an effective evidence-based training programme for parents and caregivers of children with developmental disabilities: WHO Caregiver Skills Training (CST). The original curriculum offered in-person training for caregivers, including group sessions and supervised home visits. The programme saw great success piloting the face-to-face programme in Canada, which increased demands for its availability in remote regions of Nepal and Africa. Unfortunately, the volatility of the global COVID-19 pandemic made the programme unsustainable as a physical offering. 
With over 50 million children living with developmental disabilities, 95% of them in low and middle-income countries, the pandemic forced WHO to ask a formidable question while considering a staggering statistic:
How could they scale a successful face-to-face programme on a globally accessible platform, especially in remote regions of the world, with poor internet connectivity? 
The stakeholders at WHO's Department of Child and Adolescent Health and Development were highly impressed with SystemSeed's Learning Management System (LMS) for WHO EQUIP Remote—an early intervention mental health programme. Witnessing our success in using the LMS, stakeholders saw powerful scalability to their user base, providing them with the confidence to create a digital platform for their caregiver training programme. 
From innovative development, UX and UI design, to specialised content writing—our multidisciplinary team worked passionately towards a solution from every angle. Using SystemSeed's very own ANU learning management system combined with custom Drupal and React Development, our incredible developers created a Progressive Web Application (PWA) that's highly user-friendly and accessible offline. 
Due to the app's cutting-edge offline accessibility across devices, demands for the Caregiver's Skills Training in regions of Nepal and Africa were able to be met.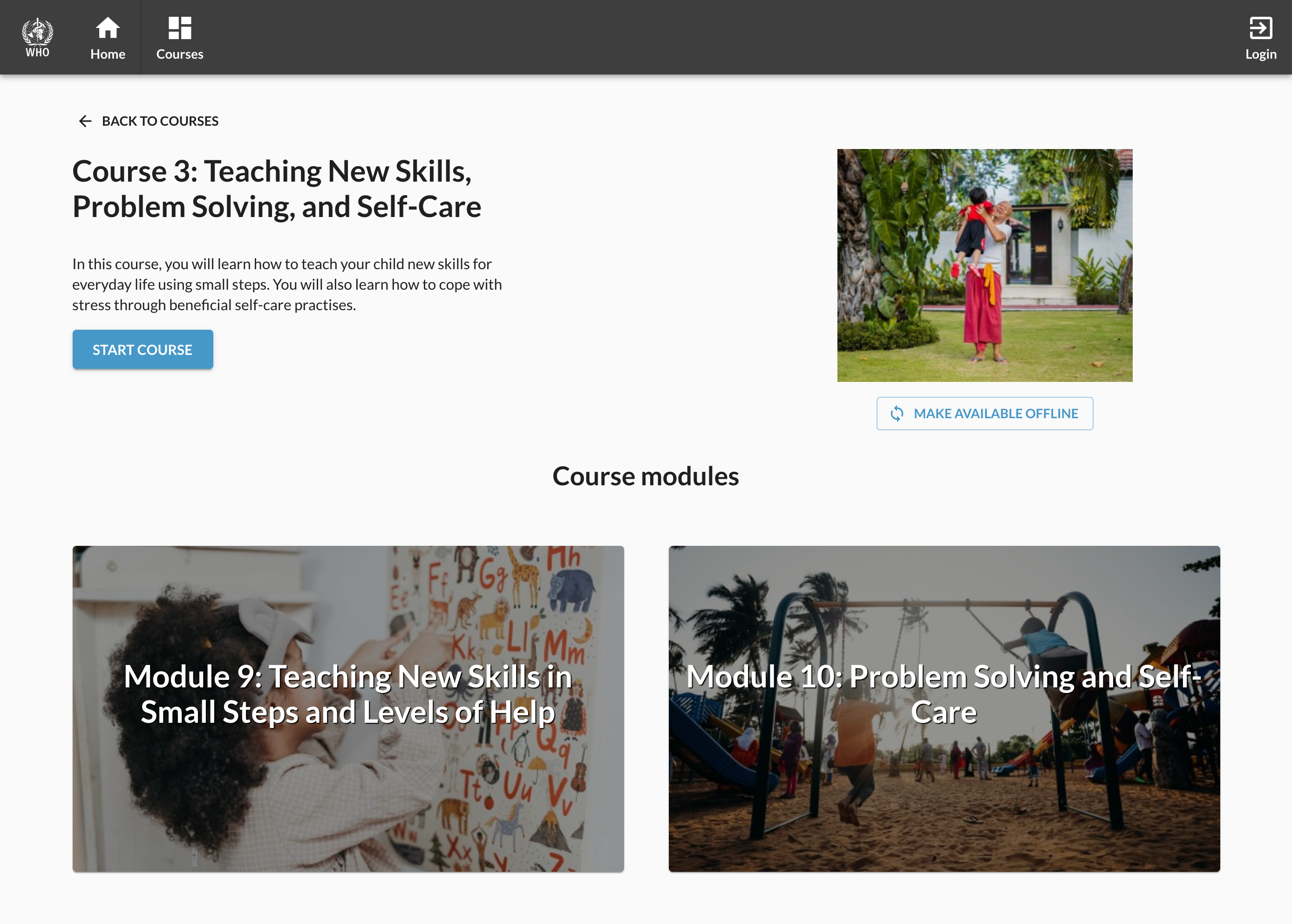 Developing Content for a Global App That's Digestible for Caregivers at All Learning Levels.
Creating an effective learning management system requires its content to be approachable and comprehensible so that no user is left behind. What sets SystemSeed apart is our uncanny ability to hire specialised individuals to better execute the needs of a project. Anyone can hire a content writer, but SystemSeed searched for the perfect match and hired me! I'm a content writer who specialises in digital learning and is also a former mental health provider, and caregiver for children with Autism. Joining the project not only meant I understood the content, but I could transcribe it with personal and professional experience at hand.
The WHO Caregiver Skills face-to-face training consisted of nine group sessions and three individual home visits. These focused on training parents and caregivers on how to use everyday play, home activities, and routines as opportunities for learning and development. The original content was separated into a facilitator guide for trainers and a participant booklet for trainees. 
The facilitator guide was robust with clinical and specialised vocabulary, while the participant booklet used simpler, direct language to guide the learner. Both informed each other and included discussions, activities, and resources that would not translate digitally. My interdisciplinary background served to my advantage, and I was able to weave crucial aspects of both resources without jeopardizing the evidence-based measures that made the training successful. However, during the initial phase of content writing, our stakeholders provided feedback that the language wasn't simple enough for individuals with low literacy skills. 
Rewriting clinical language into straightforward terms can be challenging, especially whilst being mindful of colloquialisms so the content translates cross-culturally. My edge was in empathizing with the caregivers who would be the future users of the app, putting myself in their shoes as learners, and understanding how to make the content accessible. It was just as critical to create culturally-inclusive content too, which meant including diverse photographs and illustrations depicting caregivers from India, Africa, Asia, and other regions.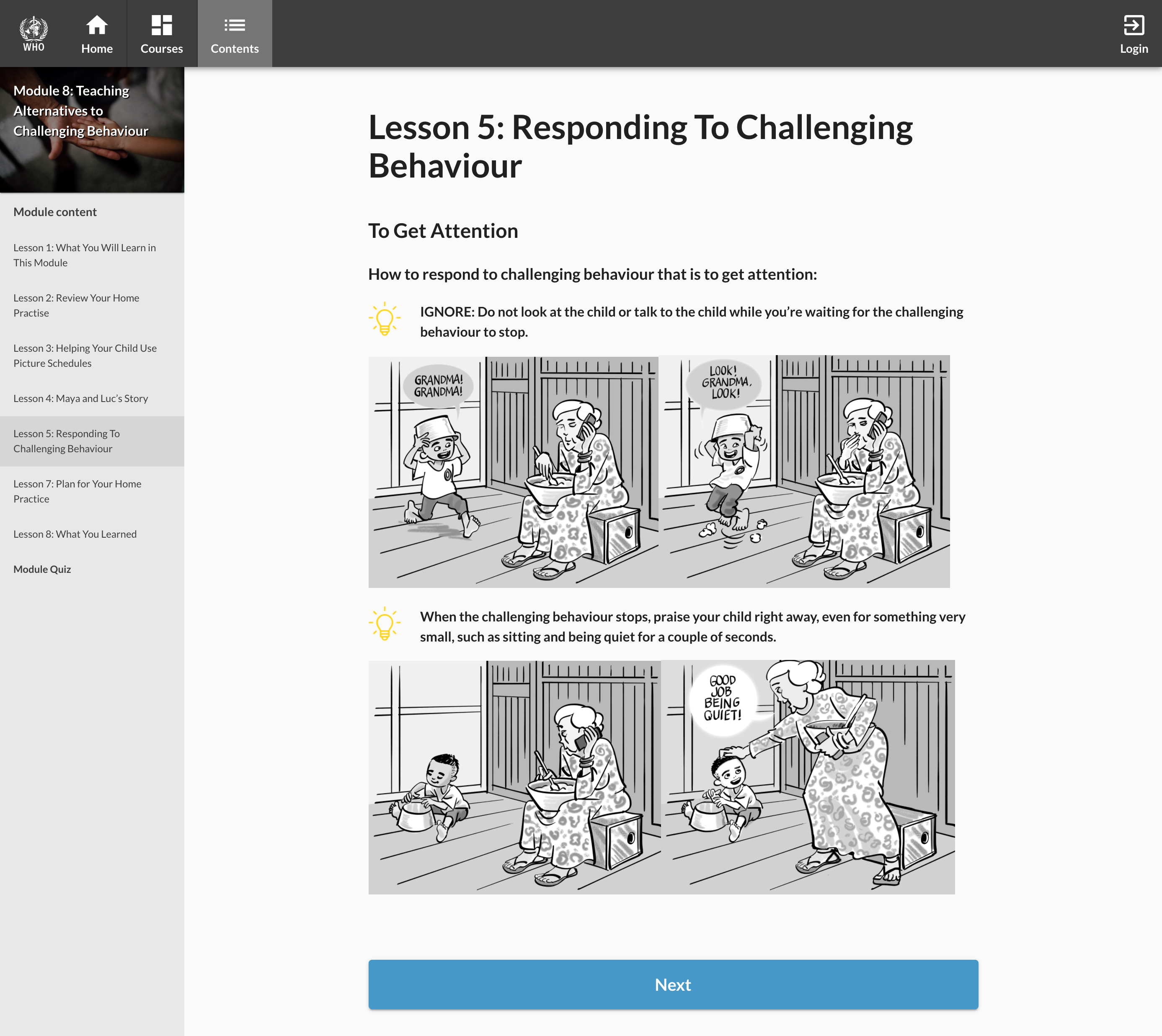 Main Points to Consider:
Seek out a content writer that has experience in whatever your project entails.

If you hire a writer with a specialised background, ask for examples that show they can break technical concepts into digestible ones.

Be open to plenty of feedback, then diversify your feedback—ask someone unfamiliar with jargon to interpret your content and its digestibility.

If the individual is writing to a multicultural audience, be sure they are aware of culturally-responsive and inclusive ethics.

Or, you can hire SystemSeed to get these needs met!


 
To ensure better engagement, I broke down the digital training into 3 courses containing 10 modules. Each module is constructed to provide impactful lessons that address communication, engagement, everyday skills, challenging behaviour, and caregiver coping strategies. All lessons feature engaging multimedia content such as live quizzes, reflective journaling prompts, example stories, and supportive at-home practice activities.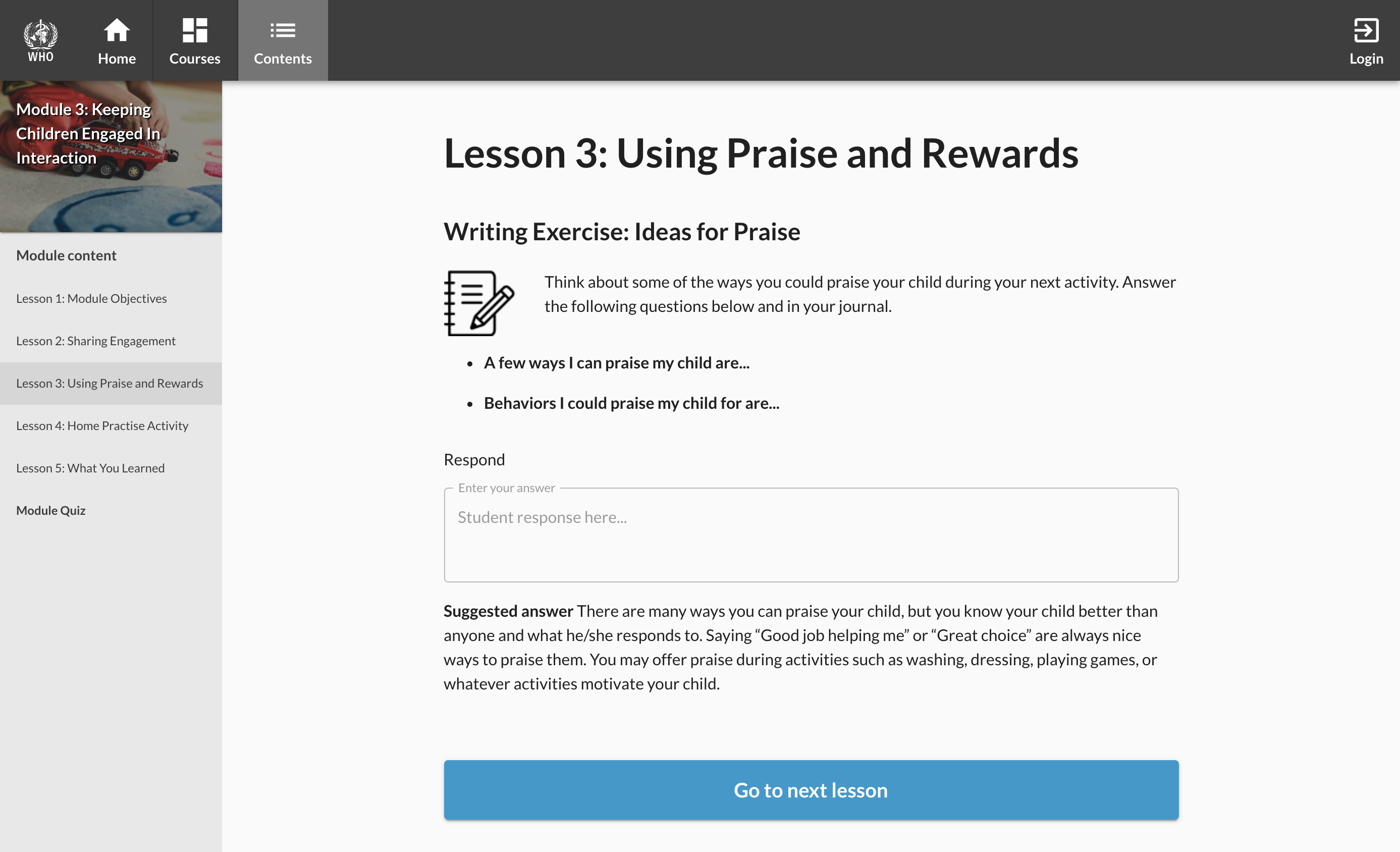 SystemSeed's ANU LMS made building out the courses incredibly efficient and fun. Never having used ANU before, I assumed there would be a learning curve in adopting a new technology for eLearning, but it took about 30 minutes for me to get the hang of it. Suddenly, it became clear why our development team says ANU is a "deceptively simple learning management system"—it is the most intuitive LMS I've ever navigated! Now, parents and caregivers in remote regions of the world can reap the benefits of it too, and children who do not have access to the care they need can see a better future.